Kettle Corn Machines - Kettle Corn Business - Kettle Corn Equipment - Kettle Corn Poppers - Kettle Corn Recipes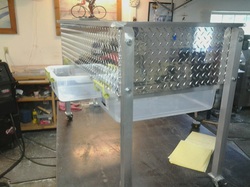 The Standard Cooling And Sifting Table - is the work horse of our Tables. I sell more of this smaller table than any other. The size works well with the 80 qt. Kettle Corn poppers. It has a small foot print for those small, tight 10 x 10 booths. Yet does well in high production uses. A Favorite for those who use trailers or just need the space in their booth.
Foot print area is 25 x 34 -- Stands 36 inches high
Actual Dimensions of box = 23" x 31" x 9.5" .
Made of 6061 High grade Aluminum
Two choices of sifting screen sizes -- 3/8 holes or 1/2 holes -- stainless steel option add $50.oo
4 locking casters
Comes with two clear catch Bins.
Comes with attractive acorn nuts or wing nuts, your choice
Comes with Free Shipping !
Sells for 789.oo
---
Call me (Mitch) on my cell phone anytime from 7am to 9pm (Pacific time) 360-477-0257



---
All new Quick release table legs
Last fall I built a custom cooling and sifting table for a customer. He wanted me to build the table around boxes he already had and used in his Kettle corn Business. One feature I am now offering as a up grade is the Quick release feature on the tables legs... Watch the video and see how it works and if it is something you may want to add as a up grade to your table. It makes loading and assembly a breeze. -- Add $129.oo to the price of any table.

---
---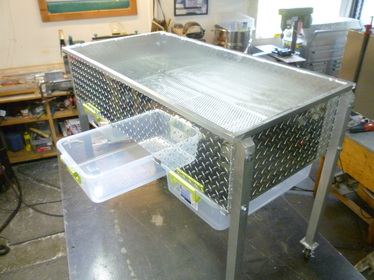 The Large Cooling and Sifting Table : is the larger version of The Standard (above). This Three bin table is the size I use the most. It works well with the 80qt. Poppers and the Big Supreme Kettle Corn Poppers. If you need just a little larger table but are tight on space this is the one for you-- Sells at $989.oo
Foot print area is 25 x 48 -- Stands 36 inches high
Actual Dimensions of box = 23" x 45" x 9.5" .
Made of 6061 High grade Aluminum
Two choices of sifting screen sizes -- 3/8 holes or 1/2 holes -- stainless steel option add $75.oo
4 locking casters.
Comes with Three clear catch Bins.
Comes with attractive acorn nuts or wing nuts, your choice
Comes with Free Shipping !
Sells for 989.oo
---
Below are some pictures on a slide show of - The Large - cooling and sifting table -- Enjoy !

---
---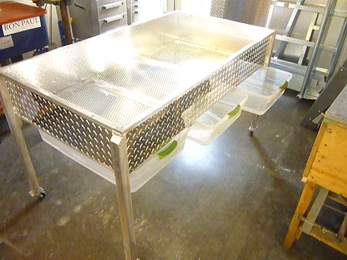 Extra Large Cooling and Sifting Table - is the Biggest version of our Cooling and sifting tables. This Table has Three extra large clear sifting bins. It's the biggest cooling and sifting table in the industry (as far as I know). It is designed to be used with the Journeyman Kettle corn sized poppers. If you have a large volume Kettle corn Business and have the room for this big table... then this is the size you must have. -- Sells at $1189.oo
Foot print area is 25 x 48 -- Stands 36 inches high
Actual Dimensions (O.D.) of the box = 36" x 52" x 9.5"
Made of 6061 High grade Aluminum
Two choices of sifting screen sizes -- 3/8 holes or 1/2 holes -- stainless steel option add $100.oo
4 locking casters.
Comes with attractive acorn nuts or wing nuts, your choice
Comes with Three extra large clear catch Bins.
This table is too big to ship via FedEx. It needs to be shipped via Freight Truck, A flat rate of $95 is all I ask for shipping.
Sells for 1189.oo
---
Below are some pictures on a slide show of The Extra Large cooling and sifting table --- Enjoy !
Free Shipping TO ANYWHERE IN THE COUNTRY
Kettle Corn Machines - Kettle Corn Poppers - Kettle Corn Equipment
---
Refund policy:
I am for the most part a one man show. (Sometimes I bring in help) –My Re-fund Policy is that I will refund anyone's product for any reason with the exception of one of a kind, Custom or prototype equipment. Most of the time when an order is placed the money is promptly spent for material's. I have very little room for inventory. If I am making a product that I regularly sell and I have the money in my bank account I will immediately refund the price you paid for the equipment less 10%. There may be a delay in getting your refund if I am short on money, but you will get your money back. If you have ordered a custom popper, table or other piece of equipment that I make I reserve the right not to return your money for Custom orders. I will if possible try to sell your custom made equipment and then return your money. I can only return the money after I have sold your customized piece of equipment. I will return your money immediately after your custom made equipment is sold less 10%.
Thanks you Mitch LaMoure